Boscastle Black Angus Gourmet Party Pies with Macadamia Pesto
Serves 12 as an appetiser  
Prep time: 10 mins 
Cooking time: 20 mins  
1 x 12 packet Boscastle Black Angus Gourmet Party Pies, 1 bunch basil, leaves picked  45g roasted macadamia nuts 60g grated parmesan 2 cloves garlic, crushed 40g roughly chopped sundried tomatoes 40g roughly chopped store-bought roasted capsicum 120ml light olive oil Sea salt flakes  
Combine basil, macadamias, parmesan, garlic, tomato and capsicum in a small food processor and blitz until finely chopped.  Season with salt.  With the motor running, slowly drizzle in the olive oil until combined.  Prepare Boscastle Black Angus Gourmet Pies according to packet instructions and serve with the pesto.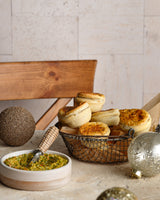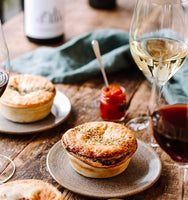 Real Food, Real Flavour
At Boscastle, we believe that wholesome, feel good, uncomplicated food brings people together. It's the quality of the natural ingredients and the slow and gentle cooking that enhances the flavour of everything we make. Every Boscastle pie is distinctly different; you can taste each individual ingredient and each product tells it's own delicious story.